Sublimation Imprinting
Bag Promos Direct – Sublimation
Sublimation Imprinting – Our sublimation imprinting uses digital heat transfer to sublimate your design into the bag panel. In fact, sublimation offers edge-to-edge coverage. Furthermore, it offers enhanced colors and crisp details for a stunning visual effect. To see our complete line of products, visit us at bagpromosdirect.com. In addition to that, you can also visit us at Bag Promos Direct, Custom Green Promos, and Gorilla Totes. We have the largest selection of tote bags and also custom promotional products. Furthermore, you can request a free sample on any item.
Why choose Sublimation imprinting?
Sublimation may be an ideal imprint process if you want a visual wow factor or also to maximize imprint impact with edge-to-edge coverage. In addition to that, to fully capitalize on colorful, detailed artwork. Sublimation is also currently available on our PET non-woven tote bags. In addition to that, it's available on the Dali Polyester Tote. Furthermore, do you want to add a special touch? For example, combine a sublimated imprint with our ColorVista or Sparkle Decoration process.
Ordering – Sublimation Imprinting
We sell our products through a national network of promotional marketing distributorships that specialize in creative marketing and custom-imprinted merchandise. Please consult the Internet or phone directory for a promotional products consultant near you. For more details, please view our order information page. For rush service, please see our rush service documentation.
Pricing
Set up charges apply to all orders and re-orders.
Set-Up Charges
New Orders:
$50.00 per design.
Art Edits After Approval for Production:
$50.00 per design.
Re-orders:
$30.00 per design.
Production
Production time begins after approval of your artwork and also credit approval. Furthermore, orders that request larger-than-catalog quantities or multiple print locations/colors will require extra production time. Please call for additional production times. For instance, during peak production periods, Custom Green Promos may require extended production times due to production capacity. Custom Green Promos will notify customers if submitted orders require additional production times because we always keep a high level of communication with customers.
Current Time:
10-15 business days after all final approvals
Art Specifications
Sublimation uses digital heat transfer to sublimate your design into the bag panel. This is done with a Coatd GraCol 2006 color profile. All artwork should be minimum 300 PPI at 100% imprint size.
Color Profile:
CMYK—American Prepress 2 SWOP coated.
Resolution:
300 PPI Minimum at maximum (100%) imprint size.
Programs and Formats
Any other file formats are not acceptable and may delay production.
ADOBE ILLUSTRATOR—Preferred Vector Art Program
Save as native Illustrator .ai file, Illustrator Default PDF with the "Preserve Illustrator Editing Capabilities" box check-marked.
ADOBE PHOTOSHOP—Our Preferred Raster Art Program
Save files as native Photoshop .psd or layered TIFF with transparent backgrounds and/or only necessary layers.
ADOBE INDESIGN (Macintosh Version Only)
Please PACKAGE the file and include all fonts and linked images. Please don't use any third-party plug-ins—if they are used we'll be unable to process your art.
Fonts and Line Rules
Please convert fonts to outlines (paths or curves). If we do not have the exact font you used, the text in your art will default to a less attractive font, changing the look of your design. Converting your fonts to outlines eliminates this hazard.
Minimum Sizes (if free floating on the bag)
2-point lines or rules
8-point fonts. Thin serif font styles are not recommended.
Imprint Colors
Color tints/shades/tones may fluctuate up to 5% within a print run or reorder. PMS color matching is not available. PMS solid spot colors are converted to corresponding CMYK formulas to achieve close equivalents. Please consult a PANTONE-Plus Color Bridge-Coated guidebook to view how your PMS Solid Color will look once converted to CMYK.
Special Note About Our Printing Process
The Sublimation process allows for full-bleed imprint area on select bags. Please also add a ¼" bleed around your artwork. Also allow 1″ safety from the edge of the imprint area for logos and text. We have a thorough process because we want to ensure your satisfaction.
Sublimation is your best choice for edge-to-edge printing.
Available on PET Non-Woven Totes and also Dali Totes.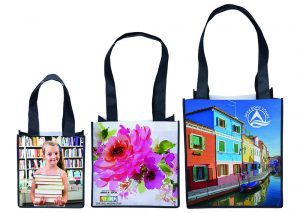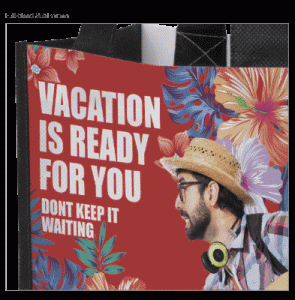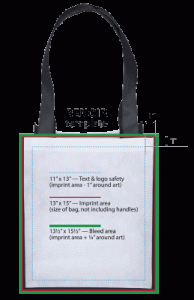 Because we are the leader in the industry, we are confident you will call upon us again for all of your promotional product needs. For example, are you looking for custom tee shirts to hand out along with one of our custom green bags? We can handle that too!