Foil Hot Stamp Color Chart
Foil Hot Stamp Color Chart – Click on the color chart to see a high resolution image. At Bag Promos Direct we offer many different types of imprint colors and styles including our Foil Hot Stamp colors which can be printed on custom paper or plastic bags. Furthermore, view all of our promotional products at bagprmosdirect.com. In addition to that, please visit us at Bag Promos Direct and Custom Green Promos.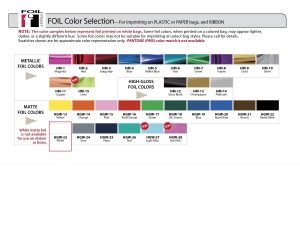 In fact, we are the industry leader or eco friendly promotional products. You can contact us toll free at 888-565-2235. From eco bags to recycled lanyards, you are in the right place. All of our products are affordable, high quality, and will be just what you and your company is looking for. Our foil hot stamp imprint process is great on plastic or paper bags. Call today for pricing on reusable bags bulk and custom reusable grocery bags. View all options here.
Custom Reusable Grocery Tote Bags – Reusable Bags Wholesale are a Tradeshow Hit!!!!
Call us today at Bag Promos Direct for pricing on custom tote bags. Reusable bags wholesale are quickly becoming the most important promotional item that you can find. They are great for many purposes. In addition to that, their uses at tradeshows are hard to match for other promos. Furthermore, they are great for companies to give away with informational packets and other goodies inside for customers. As a result, you can have confidence in reusable bags.
The great thing about using custom imprinted reusable bags at trade shows is that the prospective customers can walk the trade show floor the entire day with your company's bags featuring your logo. In fact, it will be printed on them for everyone else to see. Talk about amazing advertising.  You will be doing a great job in showing everyone that your company runs a smart and efficient promotional campaign. It's this type of message that will allow you to gain the customer base that you are looking for. Who would have thought that reusable bags can be such a powerful marketing vehicle. They can make your sales reach levels that were never imagined before.
Eco Friendly Bags Wholesale
The next time your company has a tradeshow, wouldn't it be great to have that bag that you see everyone walking around the show with in their hands. Your logo will be on the side for thousands of people to see. Reusable bags are very popular and for good reason. Do your company and your next marketing campaign a favor, and use reusable bags to give it that extra boost that you are looking for. You will be glad you did based on the increase in sale that you see. All of this due to the fact that you chose the correct marketing tool of reusable bags.