Flexographic Ink Color Chart
Flexographic Ink Color Chart – Click on the color chart to see a high resolution image. At Bag Promos Direct we offer many different types of imprint colors and styles including our flexographic ink imprint colors which can be printed on custom paper or plastic bags. Take a look at all of our products at bagprmosdirect.com. Call for pricing at 888-565-2235. Furthermore, visit us at Bag Promos Direct and Custom Green Promos.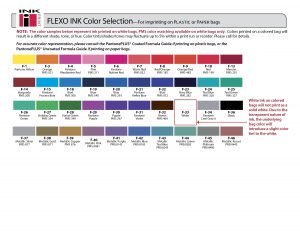 Bag Promos Direct is your #1 source for high quality non woven bags to choose from. We are your one stop shop for all eco friendly promotional products. We stock a large inventory of reusable grocery bags to choose from. Call or request a free quote today on any of our products including our eco bags and reusable bags wholesale. Or flexographic ink imprint process is intended for use on our wholesale paper and plastic bags. Call today for pricing on custom eco friendly tote bags and eco bags wholesale. See all options here.
We Need to Reduce Litter!!!! Eco green bags, Custom reusable bags, eco friendly grocery bags
Bag Promos Direct – Custom Reusable Eco Grocery Bags are as important to society as issues such as controlling pollution as well as political issues. The reason for this is because they play such an important role in making the world a safer and cleaner place. It's hard to ignore the importance of using eco friendly bags. They're a sustainable and practical product that is great for the environment and very easy to use.
Eco Green bags have so many great things about them and it's important as a society to explore what these are and see for ourselves. We need to ensure the safety of the planet, the future of our children, and the overall well being of society in general. We must reduce litter and pollution and everyone must pitch in and play their role in this green movement. It's important to educate everyone on what to do in order to accomplish these goals. One way to make a difference is through the use of green bags.